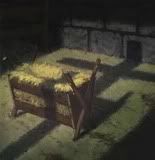 Years ago, Doug and I helped out every year at a church event that was an outreach to the community. It was a Christmas walk that took place on a beautiful piece of land that the church owned next door. The church would set up platforms along the walkway that depicted the Christmas story. The first platform held a modern family in a living room setting reading the story of the first Christmas. The next scene had a donkey and a man and woman dresses as Mary and Joseph. Altogether, there were about 10 scenes plus musician platforms where quartets played or sang, and decorated, tree lit paths that were meant to make anyone comfortable. Near the end of the walk was a scene that held an empty cross and an empty manger. After that was a registration area where people could write down what they thought, give us their info, and enjoy a cup of hot chocolate.
I was usually at the registration area. Hundreds of people came through there, church members and many more of the area's residents. We were there as counselors to pray with anyone who was moved by what they had just seen or just to be on hand to help. I would also walk the trail and pray and help where I was needed or answer questions.
One evening, I came upon a little girl of around 6 standing by herself at the cross and manger scene. She was intently staring at first the cross and then the manger and then the cross again. I sat on a bench near her to wait and see if her parents were coming behind her. Suddenly, she turned and looked at me.
"Excuse me, Miss. Where is Jesus?"
Not wanting to mistake her question, I asked back, "What do you mean?"
She turned and pointed to the cross and manger scene in front of us. "There" she said, "where is Jesus, why is He not in the manger and why is He not on the Cross?"
About that time, her parents showed up. She again pointed to the manger and cross and said, "This lady was just going to tell me where Jesus is."
The mom looked up from her daughters face and looked at the scene. I patted the bench beside me and the three sat down, the little girl on her daddy's lap. We once again looked at the scene in front of us. I took a deep breath and quietly prayed, "God, please give me the words to speak exactly what You want me to say."
I asked, "Tell me what you know about the cross and the manger." The dad answered, "We know that Jesus was born in a manger - that's why we celebrate Christmas. Every year at our church we kiss the baby Jesus." The little girl nodded her head. The mom spoke, "and we know that He died on the cross. We have a crucifix of Him and have it hung in our home."
"Ok", I said, "The reason why the cross and manger are empty is very simply this - Jesus did not stay a baby and He did not stay dead on the cross. The Bible tells us that Jesus was born of a virgin and wrapped in swaddling clothes and placed in the manger, but the Bible also tells us that He grew up. He did not stay the baby in the manger but became a man who followed and did God's will. The Bible tells us that He did die on the Cross of Calvary and took the penalty of death for our sins, that he was buried in a tomb and on the third day He arose from the grave."
I looked at the family to see if there were any questions. The dad nodded his head to go on. "Jesus is alive. He truly wants to be our helper in times of trouble, to walk with us through joys and heartaches. To take the heavy burdens of our life and carry them for us. He took our penalty on the cross so that we could enjoy eternity with Him if we call on His name, acknowledge our sinful nature, and believe that He died for our sins that we might have eternal life. He loves you and cares about you and everything you are going through. He wants to be your strength"
I looked in the parents faces and both had tears streaming down their cheeks. The little girl reached up to her dad and wiped away his tears. The dad asked, "Please tell me what we need to do." We bowed our heads and the mom and dad prayed, "Dear Jesus, we believe. We now know that you love us so much that you were willing to die for us. Forgive us for our sins and please come and help us." I heard the little girl say, "Amen."
By this time, I was crying too. We stood and hugged and headed down the trail. I introduced them to one of the ministers and other church members and hugs were given all around.
I saw them around the church from time to time. Always with big grins on their faces.
Sooo, why am I telling a Christmas story before Thanksgiving? Look around, the stores are filled to overflowing with all the Christmas decor you could ever want and stuff into your garage or attic. We are inundated with images of high price Christmas gift possibilities and temptations to use our already maxed cards and go deeper into debt. We have people dressed up like elves in slinky outfits hawking the newest drink to dull our senses and empty our wallets.
No, I am not the epitome of Scrooge himself. I am just reminding myself, this is my rattle can after all, that there is a truth that must not be forgotten - the manger and the Cross is empty - He lives.
He lives! He lives! Christ Jesus lives today!
He walks with me and talks with me along life's narrow way.
He lives! He lives! Salvation to impart!
You ask me how I know He lives? He lives within my heart.